Through the Judge's Eyes: Insight into AKC Welsh Terrier Judges Education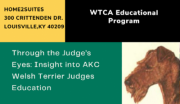 The AKC offers breed-specific education seminars to judges and prospective judges. Judge Bruce Schwartz will present information from the Judges Seminar on Welsh Terrier conformation to Welsh Terrier Club of America members. By attending this seminar, you will have a better appreciation for the breed-specific information and skills conformation judges have before judging your dog.
Live Program Friday March 18, 2022 @ 6:30 PM ET
Presented by Bruce Schwartz
Biography: Bruce Schwartz has been involved in dogs for over 50 years. His first breed was Miniature Schnauzers and a few years later he and his parents acquired their first Welsh Terrier, Ch. Philtown Protocol. He is the owner of 11 group winning Welsh, 9 of them BIS winners. This includes Ch. Anasazi Billy the Kid, the top winning Welsh Terrier of all time with 100 all-breed best in shows. Three of his BIS winning dogs were homebred. His Welsh have won the Welsh Terrier Club of America Specialty held with Montgomery County Terrier Show 9 times and numerous other National and Regional Specialties. Bruce is President of the Welsh Terrier Club of America. He is the current President of the Montgomery County Kennel Club and has also served as the AKC Delegate from the American Fox Terrier Club. He currently judges the Terrier Group and 10 Working Breeds. His international judging assignments have taken him to Canada, Colombia, Mexico, Sweden, Thailand, Taiwan, Wales, Hong Kong, Australia and Finland for the 1998 World Show. In 2014 he judged the Terrier Group at the Westminster Kennel Club and in 2016 he judged the Terrier Group at the AKC/Eukanuba National Show. In 2013 he judged the Welsh Terrier and Norfolk National Specialties and in 2021 the Miniature Schnauzer Specialty which are held with Montgomery County Kennel Club – the world's largest terrier show.
No entries match your request.