The Welsh Terrier Club of Northern Illinois is dedicated to promoting the sport of Welsh Terriers and breeding for type and function. The Welsh Terrier Club of Northern Illinois advocates for the Welsh Terrier as an important member of the community of purebred dogs and as a family companion; advances canine health and well-being; works to protect the rights of owners; and promotes responsible dog ownership.
To preserve and protect the Welsh Terrier breed.
To provide a 'meeting place' for all Welsh Terrier fanciers, including breeders, exhibitors, and owners of companion dogs. While the geographic focus of the Club is the Midwest, we welcome all Welsh Terrier fanciers regardless of their location.
To support the Welsh Terrier Club of America (WTCA) and the American Kennel Club (AKC) in their pursuit of excellence in the sport of purebred dogs.
To sponsor formal AKC sanctioned conformation and performance events, as well as Fun Days where members can get a taste of various types of events in an informal setting.
To offer educational programs on topics of importance to Welsh Terrier fanciers
To promote

Good sportsmanship
Conformation that meets the official breed standard of the WTCA
Awareness of and participation in dog events sanctioned by AKC and affiliated organizations, including conformation and performance events

To serve as a resource to our members and to the community on all things related to Welsh Terriers.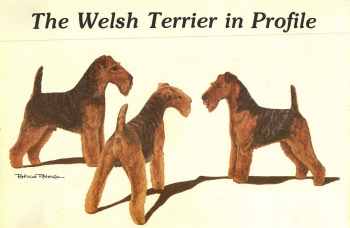 In 1962 the Welsh Terrier Club of Northern Illinois (WTCNI) was formed by a group of Welsh Terrier owners and breeders from that region, most notably Harold M Florsheim of Harham Kennels. The Club was incorporated in the State of Illinois in 1970 under the General Not for Profit Act. Carl Neumann of Carlano Kennels was the first president.
The purpose of the club remains the same today as it was then: "promoting the breeding, exhibiting, and welfare of the Welsh Terrier breed of dogs". WTCNI held its first AKC-sanctioned conformation show in 1971 and in 2021 held its 50th anniversary show in Grayslake, Illinois. Over the years, WTCNI has gained the respect of the purebred dog community and attracted membership from across the country.
While membership waxed and waned over its first 50 years, the Club was revitalized in 2021, with a surge in new membership and a commitment to promoting performance and companion-animal-friendly events as well as conformation events, sponsoring events in more geographically diverse locations, and offering educational programs on topics of importance to the membership.