Louisville Kennel Club - Friday, March 17, 2023
Welsh Terrier Club of Northern Illinois Specialty Show
Sweepstakes Judge: Janet Fox Stevens
Judge's Critique: It was an honor and greatly appreciated to have been invited to judge the WTCNI Sweepstakes in conjunction with the Louisville Kennel Club this year.  The young Welsh terriers were a quality group and consistent with breed type.  Overall, there was some marked difference in size and length of back but good dentition, excellent coat and color and level top lines in the exhibits.
My choice for Best in Sweepstakes was CH Carroway Bayleigh's Feel The Burn, a handsome young dog, with a square appearance, a keen Welsh expression with a small dark eye, rectangular head and true moving front and back.  He presented a reach of drive and strong movement behind moving around the ring.  His shoulder layback was correct and tail was set on well up on the back.  His coat was dark, tight, hard and wiry.  He was alert, spirited but friendly and seemed to enjoy his time in the ring.
Best of Opposite Sex was Brynmawr Curds and Whey.  She was showing and moving well front and rear and around the ring.  Feminine, she had a correct size, alert expression with a small dark eye and a square appearance.  Good angulation in the rear, straight front with correct layback of shoulder and dark coat and color were assets.
All of these youngsters represented our breed very well, and many of them can look forward to a winning show career and to passing on their wonderful assets to the next generation of Welsh terriers.  I look forward to seeing them again in the ring as they further their show careers.
Best Opposite Sex to Best in Sweepstakes
Diane Borneman, Bryan Safranski, Kathy McAtamney, & Phil Schmitical
Regular Class Judge: Bergit Coady-Kabel
Judge's Critique:
First, I would like to thank all the breeders & exhibitors from the Welsh Terrier Club of Northern Illinois for the wonderful entry in Louisville KY. Here are a few of my observations:
My winners dog & best of winners came from the 9-12 puppy class. He is a strong dog with a correct neck set, which creates a beautiful outline. His head and expression is correct, as well as his strong movement!
My 8 young bitches were all of good type, good harsh coats, showmanship & movement, some lacked a little bone. The beautiful head piece, ears & expression put my winners bitch to the top!
To describe my Best of Breed dog, I could use all the accolades from the standard, plus the fact that he was in perfect condition & trim, a joy and privilege to examine a dog of this caliber.
My Best Opposite Sex bitch was feminine and full of Quality.
GCHS CH Abbeyrose Black Chrome
Mary Duafala, Judith Anspach, Pamela Allen, Suzan and Randy Williams, & Daryl Peters
Winners Dog / Best of Winners
Shiloh Morning & Teritails Be-Dazzled at D'Asti
Candida La Motta & Cathy Francis
Keith Bailey & Emily Carroll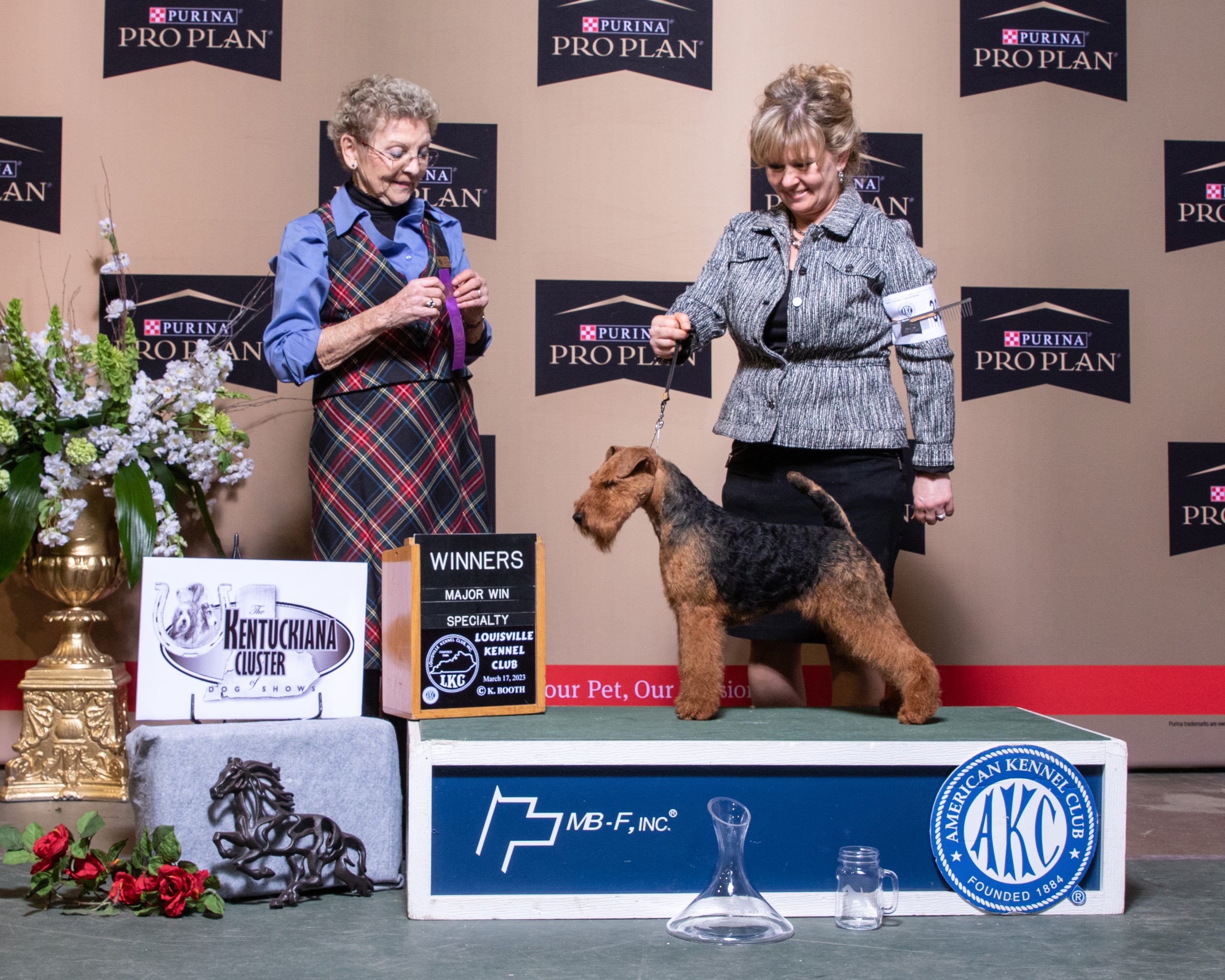 Select Bitch & Owner Handled Best Of Breed
GCHB CH Bridgemor's Pot of Gold
Mary Ellen Carney & Claire Alasio